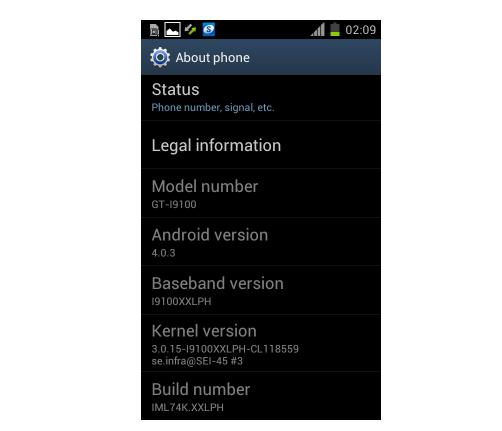 Importante notizia, relativa a coloro che sono in possesso di un Samsung Galaxy S2, considerando che è stata rilasciata l'ennesima ROM focalizzata su Android Ice Cream Sandwich 4.0.3, che pare presentare importanti livelli di stabilità.
Scendendo in dettagli, emerge che il nome in codice è I9100XXLPH e che la Build sembra risale al 9 febbraio 2012. Questo, nel dettaglio, quanto comunicato nella pagina ufficiale, dove viene esplicitato il tutto:
"We got today again some new ICS rom for the Galaxy S II.
This rom based on Android 4.0.3 is build on February 9.
This rom looks very stable but touch in menu isn't better than in I9100XXLPB that we released a couple of weeks ago.
The roms are stil beta. Samsung will start in March with official updates.
You can get the updates via KIES or OTA.
FIRMWARE: I9100XXLPH
CSC = I9100OXALPH (Open Europe)
BUILD: February 9 2012
DOWNLOAD ?
Go to our firmware page.
Forum
Talk here about the firmware. 
See here some screenshots about this rom".
[Via]