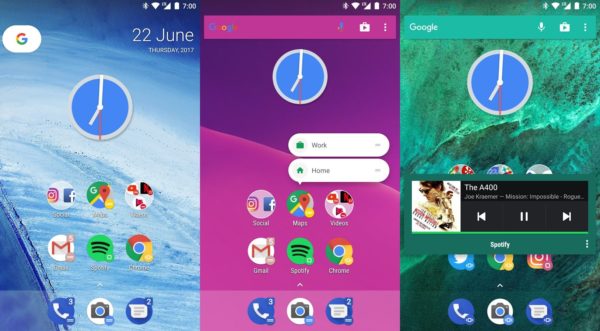 Tra le migliori app per Android in questi anni è stato spesso e volentieri collocata una soluzione come Action Launcher. Ecco perché sta facendo parlare molto di sé l'aggiornamento alla versione 33, con alcune questioni che vanno analizzate con grande attenzione.
A questo punto proviamo ad esaminare in modo più dettagliato quanto emerso con l'aggiornamento Action Launcher, per tutti coloro che sono interessati ad un pacchetto di questo tipo:
NEW: 2018 Supporter badge is available! As well as the badge, supporters also get three original and unique Action Launcher themed wallpapers.

NEW: Integrate Android 8.1 style "bounce" animation in All Apps drawer.

NEW: Integrate Android 8.1 style "easing" animation in on leftmost and rightmost Home screens (Note: won't display if Now feed, Quickdrawer and/or Quickpage is enabled).

NEW: Support dragging to delete an entire Home screen.

NEW: Empty Home screens can be created.

NEW: Re-enable usage of Android's Accessibility APIs (with Google's blessing), improving reliability of opening the notification shade and recents list.

NEW: Add "Circular reveal" app open animation (Settings -> Desktop -> Open app animation).

IMPROVEMENT: Polish appearing and animations of line page indicator.

IMPROVEMENT: Memory usage optimizations.

IMPROVEMENT: The All Apps letter highlighter can be controlled by tapping anywhere on scroll bar, not just the scroll bar position indicator.

IMPROVEMENT: Use Android's downloadable fonts. Results in smaller APK, and improves memory usage when using custom Roboto fonts.

IMPROVEMENT: 2016 Supporter pack wallpapers are again available (via Action Launcher's wallpaper picker).

CHANGE: As of v33, Lollipop or later is required.

FIX: Quicktheme not updating after a manual wallpaper change.

FIX: Fix All Apps drawer displaying incorrectly when it is opened quickly upon the app loading.

FIX: Fix item being dragged from the All Apps drawer temporarily not following one's finger when the All Apps drawer closes.

FIX: Fix Google Pill displaying in a glitchy manner when running Samsung 7.x devices.

FIX: Fix appearance of home screen shortcuts when enabling low-power mode on Samsung devices.
Nel caso in cui doveste essere interessati al download Action Launcher 33, tra le app Android più popolari all'interno del Play Store, vi ricordiamo che potate procedere anche attraverso questa pagina.